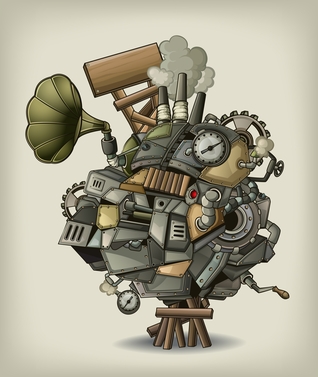 It's that moment when elements of historical literature jump off the page and into our reality that a unique design genre explodes with character. We can thank the late great science fiction authors Jules Verne, "Twenty Thousand Leagues Under the Sea," and H.G. Wells, "The War of the Worlds," for digging into the world of nautilus, time travel and space exploration in the industrial Victorian era of the late 1800s.
Machines were steam-powered and they were beastly. The lower class slaved away in factories and warehouses, while the upper class dictated the politics of the time from their velvet couches and studded leather-bound chairs.
What is It?
As defined by Build Direct, "Essentially, steampunk is a sub-genre of science fiction, speculative fiction, and fantasy that includes elements of the Victorian era, or other times when the use of steam-powered machinery was prominent. Steampunk often focuses on 'rejected' or obsolete technology, such as analog computers or vehicles that are powered only by steam."
Examples, Please
It's vintage gadgets and open gears; zeppelins and propellers; weathered maps and corroded tools; machine chains and exposed piping; leather and lace; compasses and telescopes; velvet art, brass wall phones, copper goggles and metal tables with rusted wheels.
Can you get a picture in your head? With steampunk's originality comes elevated interest and intrigue. Couture designers like Prada and mainstream labels like Banana Republic are getting into the movement. Pinterest and Etsy offer fashion and home decorating ideas for the style. Restoration Hardware houses steampunk-inspired pieces you can incorporate into your home, as well.
If you haven't caught on, now is the time. What are some ways you can begin incorporating steampunk into your home? All it takes is some vintage items, imagination and possibly a visit to an antique shop.
Old Suitcase Trunks
Look to stack brown-leather trunks with antique-brass-hardware enclosures on top of one another to create a steampunk-inspired side table.
Watch and Clock Parts
As you will soon find out, exposed watch faces and gears are a driving force in the steampunk movement. Mixed and matched to form a number of home-decor items such as wall clocks, trivets and mirrors; Watch parts are very popular in fashion accessories, as well.
Submarine Portholes and Helmets
If you can get your hands on a porthole (or anything submarine, for that matter), hang it in the middle of a closed door to add mystery to your steampunked space. A copper submarine helmet can be turned into quite the conversation piece as it sits quietly (yet loudly) on your shelf.
Propellers
Hang larger propellers from the ceilings at different heights or embellish a wall clock, or other gadget, with mini propeller blades to steampunkify your home.
Old Books
Leather-bound hardcover books are the foundation of the fantasy of steampunk. Simply lay them individually or stacked on a side table or counter.
Maps and Globes
Add a weathered map of the Old World encased by a rustic frame to your walls and watch your steampunk room take form. And, throw in an old standup globe for good measure.
Velvet and Leather
Adding a bit of romanticism, velvet is a welcomed material in steampunking. A chaise lounge, or Victorian-style love seat, would soften an industrialized room. Also consider introducing a studded leather chair, as seen in libraries of old, into your decor.
Steampunk — the lighting is dim and atmospheric, the metal is exposed and everything is a weathered antique. Paul Jessup puts it very eloquently in his blog, booktionary, "Steampunk is a schizophrenic old codger who doesn't know his own name half the time, let alone what century he's in."
Authored By:
Damon Adkins: Damon is a social media expert and entertainment enthusiast. He studied digital journalism on the West Coast and settled in the bay area with his family.