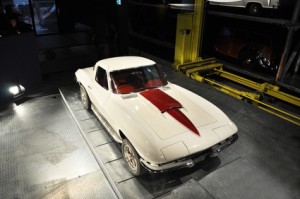 I have never enjoyed car shopping. The end result can be rewarding, but the the process as a whole can be tedious at best. I don't know if the rest of the country is like this, but in Indianapolis you have to be wary of a lot of things when you're shopping for a used car.
Did the previous owner have unfulfilled dreams of driving in the biggest race in the country, a scant mile from his childhood home? If so, did he drive his Chevy Aveo as if it were a finely tuned performance machine?
Is the entire body of the car one harsh winter away from rusting out completely? The cold winter is tough on any vehicle.
Cost, obviously. I'm pretty sure that everyone has that problem, though.
So what's to be done? If a "spoonful of sugar helps the medicine go down," as they say, then what would be the spoonful of sugar to my used car buying endeavor?
Carsick Car Shows

I was a non-believer at first, especially because my husband was the one who suggested it (he tried to pawn it off as a date night; therefore, I was unenthusiastic.) It all worked out, and I'll tell you why.

In the past, we worked with one of the many buy here pay here lots in Indianapolis and had a good experience. We weren't sure what we wanted this time around and so we were starting from scratch. If one dealer didn't have what we wanted, we'd be visiting a variety of dealerships.

Dreams of Shiny New Cars

Before we made the rounds at the dealerships, we were able to come up with some ideas on what we wanted. We walked into the car show knowing full well that we wouldn't be getting anything on the floor. Shiny new cars are pretty to look at and, well, a girl can dream.

As we walked through the exhibitions, our conversation naturally turned to automobiles. I remarked, "the suicide-style doors on a Honda Element looked really functional and I bet that car would be easy for me to drive." My husband said the installed Sirius XM would let him listen to "any sporting event in the civilized world!"

A few hours looking at products we would never buy made us better consumers. We had a lot of constructive dialog in a no-pressure setting and we had a pool of experts at our fingertips. It was nice not to have to search the Internet and question the veracity of information on Wikipedia. Plus, afterward, I was able to wind down with a nice dinner and an actual date.
So, by the time we went to dealerships, we were able to control the transaction. We knew what we wanted to look at, what we would pay for it and— most importantly, I think— what we wouldn't touch with a 10-foot pole. All in all, it was a success! We're looking at buying a house soon, and somehow I don't think the same approach will work. However, maybe I will go to some fancy open houses; I hear they have cookies at the really classy ones.
Author — Cindy Perez Unfortunate circumstances led Cindy to her knowledge of cars. Her car broke down on the way home from finalizing a divorce. She didn't have the funds to go to a mechanic and couldn't call her ex. She looked through the manual and changed the car's spark plugs on her own and since then, she hasn't turned back.