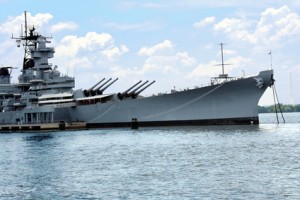 Fans of post-apocalyptic thrillers are excited to hear that the cable network TNT has signed on with a new series, The Last Ship. The show is based on the popular William Brinkley novel of the same name, which tells the story of the crew of a naval destroyer. They are among the last people who are still alive after a global nuclear disaster wiped out most of the earth's population.
Michael Bay, The Last Ship's executive producer, is bringing his considerable talents — honed on films such as Armageddon, The Rock, Pearl Harbor, and the Transfomers — to television. Joining Bay, with an array of gadgets behind the scenes, are his Platinum Dunes production house partners, Brad Fuller and Andrew Form, who are no strangers to creating chilling stories, having previously worked on A Nightmare on Elm Street and The Texas Chainsaw Massacre. Hank Steinberg, know for his work on Without a Trace, and Steven Kane, known for The Closer, wrote the pilot script and are also co-executive producing.
The network has been releasing enthusiastic statements about the show. "We believe this show will take viewers on a thrilling ride and fits perfectly with TNT's expanding line-up of original dramas," Michael Wright, TNT's president and head of programming said. "We look forward to working with Michael Bay and The Last Ship's outstanding production team."
Wright described the book that the show is based on as a "gripping page-turner that has all the makings of a terrific television drama, including a great premise, memorable characters, intense situations and heart-racing action."
Despite the network's display of enthusiasm, TNT so far has only made a tentative commitment, ordering only the pilot and not yet setting an air date. That could all change on a dime, though. Blogger Reuben at TV Equals thinks that The Last Ship could get a boost from a show on ABC which has some similarities. "[S]hould this fall's new ABC drama 'Last Resort' – which also focuses on a group of naval officers – succeed, TV viewers could see this show popping up on the screen," she writes.
It appears that no cast members have been announced. The show, at this point, remains a concept, but an exciting one. The talent behind the cameras, with their backgrounds in action and horror films, know how to tell a story that grips an audience and doesn't let go. The story could provide exactly the kind of escapist fun that so many people yearn for during these lean economic times. And TNT is a network that is committed to developing new original dramas, and it can bring a fresh enthusiasm to the project that larger, stodgier networks are no longer able to muster.
The story of a self-contained group isolated on a ship should offer many opportunities for action/adventure, romance and speculation, opening up the possibility of appealing to a variety of fan bases.
Author —  Annabella Clavette
Annabella is a Chicago-based freelance writer and editor. She specializes in auto mechanics and the technology industry.