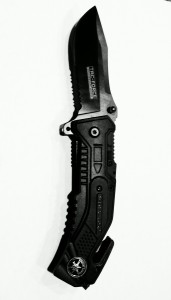 When thinking about survival situations people tend to think about the worse case scenario  We can all come up with extreme end of civilization events, from Earthquakes to Solar Flares, to a full blown Zombie Apocalypse.  What we tend to overlook sometimes are the situations that could happen any given day to any of us.
Imagine you are in a car accident and you or a family members seat belt has been damaged and can't be unbuckled. What do you have with you that can help you escape that car? What if you come upon an accident and need to help someone, do you have the tool that is going to get the job done. Multi-function pocket knives are very inexpensive and provide the tools you may need in the above situations. The knife displayed to the left has a seat belt cutter and a steel smash point on the bottom to help smash out windows if necessary.
The best thing about these knives is the price. Amazon offers many models similar to this one at under $10. At that price you can put one in all your cars so you are ready for an emergency.